Affordable Dental Care – Slovenia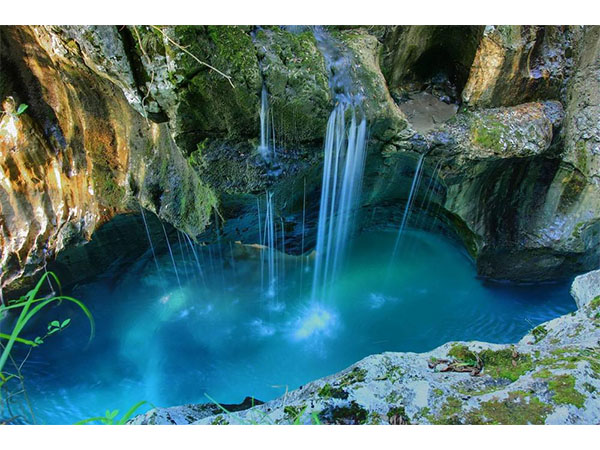 Country Profile
Slovenia, officially the Republic of Slovenia, is a nation state located in Central Europe, but is also often placed in Eastern Europe, Southeast Europe, and Southern Europe. The country is located at the crossroads of main European cultural and trade routes. It covers 20,273 square kilometers (7,827 sq. mi) and has a population of 2.06 million. It is a parliamentary republic and the capital and largest city is Ljubljana.
The territory is mostly mountainous with a mainly continental climate, with the exception of the Slovene Littoral that has a sub-Mediterranean climate and the north-western area that has an Alpine climate. Additionally, the Dinaric Alps and the Pannonian Plain meet on the territory of Slovenia. The country, marked by a significant biological diversity, is one of the most water-rich in Europe, with a dense river network, a rich aquifer system, and significant karst underground watercourses. Over half of the territory is covered by forest. The human settlement of Slovenia is dispersed and uneven.
Slovenia has historically been the crossroads of West Slavic, South Slavic, Germanic, Romance, and Hungarian languages and culture. The economy of Slovenia is small, open, and export-oriented and has been strongly influenced by international conditions. The main economic field is services, followed by industry and construction.
National Demographic
Depending on definition, between 65% and 79% of people live in wider urban areas. According to Organisation for Economic Co-operation and Development (OECD) definition of rural areas none of the Slovene statistical regions is mostly urbanized, meaning that 15% or less of the population lives in rural communities.
Although the population is not homogeneous, the majority is Slovene. South Slavic language Slovene is the official language throughout the country, which is a member of the South Slavic language group. In 2002, Slovene was the native language of around 88% of Slovenia's population according to the census, with more than 92% of the Slovenian population speaking it in their home environment. Some of the respective minorities enjoy the status of official languages, some of which are Hungarian and Albanian (0.4%), Italian, Romani and Macedonian (0.2%) and German (0.08%) and Czech.
Regarding the knowledge of foreign languages, Slovenia ranks among the top European countries. The most taught foreign languages are English, German, Italian, French and Spanish. According to the Eurobarometer survey, as of 2005 the majority of Slovenes could speak Croatian (61%), English (56%) and German (42%). Italian is widely spoken on the Slovenian Coast and in some other areas of the Slovene Littoral. Around 15% of Slovenians can speak Italian.
Slovenia is a largely secularized country, but its culture and identity have been significantly influenced by Catholicism as well as Lutheranism. According to the 2002 census, 57.8% of the population is Catholic and a relatively small number of Protestants (less than 1%) there are also 2.4% Islam, 2.2% Orthodox Christianity. The vast majority of Slovenian Catholics belong to the Latin Rite and a small number of Greek Catholics. Besides these two Christian denominations, a small Jewish community has also been historically present mostly living in Ljubljana, site of the sole remaining active synagogue in the country. In the 2002, around 10% of Slovenes declared themselves as atheists, another 10% professed no specific denomination, and around 16% decided not to answer the question about their religious affiliation.
Telecommunications
Slovenia has, for a long time, been making considerable investments to develop its telecommunications network. Analogue networks were fully replaced by digital switches and fibre-optic cables by the end of 2000. Today the network has reached a very high technical and commercial level, equivalent to that of the best European counterparts. The modernization of the telecommunications network enables citizens, companies and the Slovenian government to enjoy a high penetration level of new communication tools. The Slovenian population is well equipped in basic ICTs: fixed telephones, mobile phones, PCs and Internet connections.
Slovenia's fixed-line telecom market is dominated by Telekom Slovenije. The company has suffered from declining revenue since 2009, and so in a bid to diversify business interests and lessen the reliance pure telecom services the company is looking to expand into the electricity and insurance sectors, capitalizing o its extensive customer base. In response to competition the telco has also followed the path of many European incumbents and developed an international presence, focused predominantly on the Balkans region where it is becoming a regional provider of IT and multimedia services.
In the overall telecom market, regulatory intervention has improved market conditions for competitors. LLU (Local-loop unbundling) fees, based on regulated pricing models, continue to trend downwards but despite this there has been a steady reduction in the number of unbundled local loop connections.
Slovenia's competitive mobile market has four mobile network operators (Telekom Slovenije, Telemach, A1 Slovenija, T-2) and a small number of mobile virtual network operators, operating in a country with a potential market of only two million people. With high mobile penetration, telcos have branched into offering both mobile and fixed-line services so as to offer bundled products. This strategy saw the cableco Telemach acquire Tušmobil and Si.mobil (now A1) merge with Amis Telekom.
The regulator has addressed the need of mobile operators for more spectrums, providing additional concessions in 2013 and holding a significant multi-spectrum auction in 2014. An auction for left-over spectrum in the 1800MHz and 2100MHz bands was held in late 2016, with Telemach securing all three blocks on offer. Another auction for fixed-wireless broadband services using spectrum in the 3.5GHz, 10GHz and 12GHz bands is expected to be held in 2017.
Slovenia's broadband market continues to be dominated by a small number of players, including the incumbent telco Telekom Slovenije, Telemach and T-2. Some market changes may develop in 2017 as a result of T-2 being forced to return to bankruptcy. Despite the launch of competing platforms, DSL remains the most popular access method though its market share is being eroded by the steady development of fibre-based networks, as well as by upgraded cable networks which offer data rates of up to 220Mb/s. The deployment of DOCSIS3.1 technology expected by cablcos from about 2018 will provide data rates of at least 1 GB/s, and so enable the operators to improve the delivery of bundled services.
English Literacy
The English have published the results of an interesting research, which can make Slovene quite proud. According to these results the level of proficiency in English as the first foreign language of Slovenian adult population places on the sixth place in the world.
Only Sweden, the Netherlands, Denmark, Norway and Finland placed ahead of Slovenia, with more than 65% of adult population with fluent knowledge of the English language. Slovenia took the sixth place, with 64.97% of adult population capable of communicating effortlessly in the most widespread language of the world. Behind Slovenia are Estonia, Luxembourg, Poland, Germany, Austria, and Singapore as the first non-European country. Portugal, Malaysia and Argentina complete the first 15.
Slovenes grew up in multicultural environment. It has been established that a great improvement has been made in Slovenia as far as proficiency in English is concerned in the last two years. Slovenians usually achieve better results than inhabitants of other OECD countries at international tests, e.g. TOEFL and PISA.
"Slovenians are among the best English speakers in the world considering it is not their native language. Historically speaking, Slovenia developed on multicultural foundations. The English language, along with the German language, has a special position in the national curriculum, and almost all pupils learn both mentioned languages," stands in the explanation published at the Independent journal website.
The research is based on the English Proficiency Index which compares the number of people learning a certain language with the quality of teaching, and proficiency in English of the participants of the courses. It is based on the results of the general standardized test of proficiency in English (ES Standard English Test), which is equal in all the countries with non-English native languages. 70 countries were included in the research, with 910,000 adults who took courses in English in 2014, or learned the language online.
School System
Slovenia's education ranks as the 12th best in the world and 4th best in the European Union, being significantly higher than the OECD average, according to the Programme for International Student Assessment. According to the 1991 census there is 99.6% literacy in Slovenia. Lifelong learning is also increasing.
Responsibility for education oversight at primary and secondary level in Slovenia lies with the Ministry of Education, Science and Sport. After non-compulsory preschool education, children enter the nine-year primary school at the age of six. Primary school is divided into three periods, each of three years. In the academic year 2006–2007 there were 166,000 pupils enrolled in elementary education and more than 13,225 teachers, giving a ratio of one teacher per 12 pupils and 20 pupils per class.
After completing elementary school, nearly all children (more than 98%) go on to secondary education, either vocational, technical or general secondary programmes (gimnazija). The latter concludes with matura, the final exam that allows the graduates to enter a university. 84% of secondary school graduates go on to tertiary education.
Among several universities in Slovenia, the best ranked is the University of Ljubljana, ranking among the first 500 or the first 3% of the world's best universities according to the Academic Ranking of World Universities (ARWU). Two other public universities include the University of Maribor in Styria region and the University of Primorska in Slovene Littoral. In addition, there is a private University of Nova Gorica and an international EMUNI University.
Higher Education
In Slovenia, there are several types of higher education institutions, namely universities, faculties, art academies and independent higher education institutions. Today, there are four universities (University of Ljubljana, University of Maribor, University of Primorska and University of Nova Gorica), a public independent institution of higher education (Faculty of information studies Novo Mesto), one International Association of universities (EMUNI-EURO Mediterranean University) and 44 private higher education institutions in Slovenia (the data is from June 2016).
The traditional higher education study programmes are offered by public or private universities and single higher education institutions. Higher education is governed by special regulations, taking into account the constitutionally guaranteed autonomy of public higher education institutions.
Taking into account European standards and guidelines set by the Ministers responsible for Higher Education adopted in the Bergen Communique in 2005 and confirmed two years later in London in 2009, Slovenia established an independent National Agency for the Quality of Higher Education (NAKVIS), which is responsible for quality assurance in higher education, and for the development and advisory work in this field.
The performance of activities related to higher education is of special public interest; therefore they can only be carried out by those institutions that have been established in accordance with the law. The state shall ensure, via NAKVIS and the relevant authorities, that all the newly established institutions of higher education comply with statutory requirements before they commence operation, in order to provide students with high-quality and uninterrupted study.
The ministry responsible for higher education keeps a public record of all accredited higher education institutions and existing study programmes that provide state-approved education.
Slovenian higher education consists of short-cycle higher vocational education (2-year programmes) and higher education (3 or 4 years of bachelor – first cycle, 1 or 2 years of master – second cycle and 3 years of doctoral programme – third cycle, PhD).
The higher education is offered by the universities, composed of faculties, art academics, and higher professional colleges and by independent higher education institutions. The focus of faculties is on scientific research and educational work in science related disciplines. Faculties offer degrees in at least two cycles of qualification (the first and second, or second and third). Art academies perform artistic and educational activities in a wide range of artistic disciplines. Like faculties, art academies also offer degrees in at least two cycles. Higher professional colleges perform educational activities of one or more related or interlinked trades or occupational fields. They may also perform research or artistic activities if this is specified in its charter and meets all the requirements. Higher professional colleges offer degrees in at least the first cycle qualification. They may also offer Master study programmes if they meet the necessary requirement or can do so in cooperation with faculties or art academies.
Medical Education
University study programmes are offered in faculties and art academies. Study programmes last between 4 and 6 years, plus a year of "absolvent" (graduate) status to give students time to prepare the diploma - a written thesis or a project. The majority of study courses require 4 + 1 years of study, but some (at technical/engineering faculties) require 4.5 (i.e. 9 semesters) + 1; veterinary studies last 5 years and medicine 6 years. Medical and veterinary students do not write a thesis - they follow one- or two-year internships after their studies. Study programmes give students professional knowledge and skills needed for employment as well as for further study at postgraduate level. Upon completion of their studies, students are awarded professional titles: "Diplomirani" (Graduate), "Profesor" (Professor), "Akademski Igralec, Slikar..." (Academic Actor, Paintor...). Graduates of the Faculty of Medicine and the Faculty of Veterinary Medicine are awarded the title "Doktor Medicine" (Doctor of Medicine) and "Doktor Veterinarske Medicine" (Doctor of Veterinary Medicine).
In Slovenia, postgraduate study is organized as part-time and full-time study. General requirements for enrollment into a postgraduate study programme are: a completed university programme in the respective field, 2 years of professional experience and/or high grades at the undergraduate study (GPA above 8) level. Students are usually employed or they receive scholarships (young researchers and assistants) with fees covered by their employers. Postgraduate studies include a 1- to 3-year specialization focusing on professional knowledge, issues and problems; a 2-year master's degree programme. Specialization in medicine is organized by the Ministry of Health in university institutions and clinics. Upon successful completion of Specialist study, students are awarded the title: "Specialist". Master's degree programmes culminate in the public presentation (defense) of a master's thesis (dissertation) before a committee. Students are awarded the academic title of "Magister" (Master) in a respective field.
Based on independent research, studies for doctor's degree are individually designed. The studies take at least 4 years and culminate in the public presentation (defense) of a thesis representing an original contribution to the chosen scientific field. The thesis must be presented before a committee. If preceded by a Master's degree, the duration of study is 2 years. Candidates are awarded the academic title: "Doktor Znanosti" (Doctor of Science) in the academic field.
The Dentistry Profession
To enter the dental school a student needs to be a secondary school graduate - including a school leaving examination, known as matura exam, with a good score. There is no entry examination and no vocational entry, such as from being a qualified dental auxiliary. There is one dental school, which is state-funded. The school is known as Medicinska fakulteta, Odsek za stomatologijo, (Faculty of Medicine, Department of Oral Medicine) of the university.
Whilst 6 years is the target length of the course, 6.5 years is the average length of study. The dental school is inspected for course curriculum quality by the registration authority. The Primary dental qualifications are "Doctor dentalne medicine" (dr.dent.med.); Diploma, s katero se podjeljuje strokovni naslov "doktor dentalne medicine/doktorica dentalne medicine".
There is a 12-months' period of vocational training necessary following graduation. The Ministry of Health is responsible for the supervision of this. The trainees are paid a salary of €1,309 per month (gross income in 2013), from the Health Insurance Institute of Slovenia (Zavod za zdravsteno zavarovanje). This post-qualification training has a practical part (the participant has to fulfill a list of prophylactic, diagnostic and treatment items) and a theoretical part (compulsory attendance on recommended courses and lectures). There is a final examination, which must be passed to work as a dentist. A Slovenian graduate cannot work in Slovenia or abroad until the examination has been passed.
Diplomas from other EU countries have been recognized without the need for vocational training since May 2004. The Medical Chamber of Slovenia registers all physicians and dentists. EU/EEA dentists need to contact the Chamber with details of their qualification in order to register. There is no fee payable for registration. Dentists who qualified outside the EU/EEA have to seek the official recognition of their diploma from the Ministry of Education (Faculty of Medicine). After the diploma has been accepted, they can register with the Chamber. It is necessary to know the Slovenian language to be able to practice in Slovenia.
Continuing education is compulsory for all dentists. Every physician and dentist must undergo 75 points (about 10 courses) of continuing education in every 7 year period, provided by the Chamber. The responsibility for the supervision of this lies with the Chamber. If the dentist does not fulfill this 75 points obligation, then he must undertake an examination. Failure to pass the examination leads to a loss of license to practice. Courses taken overseas are estimated by the Medical Chamber and are allowable.
Before entering into specialist training, dentists must have completed their 1 year post-qualification training. The specialist training is undertaken in Stomatology clinics, private and public health institutes which are licensed to provide the following: Oral Surgery, Oral Maxillo-facial Surgery, Orthodontics, Conservative Dentistry & Endodontics, Prosthetic Dentistry, Preventive and Paediatric Dentistry, and Oral Medicine and Periodontology. There are limited numbers who may undertake training, all of which is for 3 years, except Oral Surgery, which is for 4 years and Oral Maxillo-facial Surgery for 6 years. A specialists' degree is received on completion of training and The Medical Chamber of Slovenia is responsible for the registration of specialists. The title given to the dentist are as follows: Specialist in Oral surgery, Specialist of Maxillofacial surgery, Specialist in Jaw and Dental Orthopaedics (Orthodontics), Specialist of Dental Diseases and Endodontics, Specialist for Stomatological Prosthetics, Specialist for Child and Preventive Dentistry, and Specialist in Oral Medicine and Periodontology.
The Chamber reports that the dental workforce is increasing in 2013, after the decrease reported in 2008. Most of the foreign dentists working in Slovenia are from the countries which previously formed Yugoslavia.
There are 6 classes of specialists in Slovenia. All specialists see patients on referral from a primary dentist, only and they are: Orthodontics, Conservative Dentistry & Endodontics, Preventive and Paediatric Dentistry, Oral Medicine and Periodontology, Prosthetic Dentistry, Oral Surgery. There is also Oral Maxillo-facial Surgery, which is a medical and dental specialty.
Getting There for Dental Care
Slovenia is situated in Central Europe and borders Italy, Austria, Hungary and Croatia. It is only a few-hour drive away from Venice or Vienna. Slovenia is easily accessible from all neighbouring countries, as it has good road and rail connections, with daily flights from many European cities. Since it is a coastal country, you can also get to Slovenia by sea.
By Car: Most of the cars enter Slovenia by motorways, which is also the easiest way to travel around the country. It is easy to travel the Slovenian roads by car, since they are well and clearly signposted. Although some local roads are narrow and winding, a drive along them is nevertheless pleasant and varied. For driving on motorways, it is mandatory for you to have a vignette.
By Air: In addition to the daily flights to many European cities, there are two low-cost flight providers flying from the main Slovenian international airport Ljubljana Jože Pučnik Airport (LJU). They are EasyJet and Wizz Air, flying to London and Brussels. Most flights to Ljubljana are made by the only Slovenian airline Adria Airways. You can also fly to one of the foreign airports in the near vicinity, and access Slovenia from there by bus, train or rental car.
By Bus: Buses run to Slovenia from many European cities. In Slovenia, you can also get to most of the towns and the countryside by bus. If they run along local roads, the drivers can stop at a bus stop in any settlement. You can buy a bus ticket directly from the bus driver, while at major bus stops you can also buy a bus ticket for a specific date.
By Train: Trains to Slovenia run daily from many European cities. If travelling by train, it is also possible to ride in a sleeping car. There are only the trains of Slovenian Railways running around Slovenia, with all the timetables and price lists published on the web pages. You can buy a ticket at every railway station as well as on the train. Slovenian trains stick to the timetables.
By Boat or Sailboat: From May to October, there are frequent rides of high-speed power boats from Venice, Trieste, Poreč and Rovinj. Occasionally, large cruise ships arrive to Koper. If you arrive with your own vessel, you should know that the international border crossings are only in Koper and Piran, and from May to October in Izola as well. In Izola, Koper and Portorož, there are modern marinas available for mooring. In several places on the Slovenian coast, you can rent a sailboat.
By Bicycle: Naturally, you can also get to Slovenia by bicycle, whether by riding the roads or by taking a train. By bicycle, you can drive on all roads in Slovenia. The only exceptions are the expressways and motorways. It is also prohibited to ride your bicycle along the forest and mountain trails.
Visitor Highlights
Don't let its size fool you, Slovenia really packs a tourism punch when it comes to diversity and activity. From east to west and north to south, all of Slovenia's regions offer the tourist something different to discover and enjoy. Pack your bags as your incredible adventure begins here...
Ljubljana...The jewel in Slovenia's crown is its vibrant and cosmopolitan capital that will entice you and draw you in. Sitting under the watchful eye of the castle, Ljubljana has something for everyone and it is about as laid back and charming as any leading city can get. Visit a museum or just admire the world go by at the many riverside cafes, life here can be as fast or slow as you like. But be warned, Ljubljana may just capture you so that you may not want to leave!
Lake Bled and Lake Bohinj...Slovenia's number one tourist destination should be your number one destination as well. Lake Bled is simply a magical place. It is postcard perfect and waiting for you. Walk around the perimeter and soak in the beauty from all angles. The view from the castle is jaw dropping and a pletna ride to the island is tres romantique! Down the road, Lake Bohinj is just as scenic and a lot larger than Bled. It sits calm and eerie on the edge of the Alps and the Triglav National Park, calling out to nature lovers the world over. Spectacular. Throw in Mount Vogel, Stara Fuzina, Radovljica and Vintgar Gorge and you're set for an amazing visit!
Kranjska Gora...Slovenia's premier ski resort becomes electric when it hosts big World Cup events and the famous Ski Jumping at nearby Planica. During the rest of the ski season, KG welcomes enthusiasts of all ages and levels to hit the slopes and have as much fun as you can handle. In the warmer months KG is a great place to unwind and enjoy the spectacular alpine scenery. The Vršič Pass links KG with the Soča Valley and is a fantastic drive if you have the time.
Soča Valley...stretching from Soča down to Nova Gorica, the emerald green Soča River will captivate you with its amazing colour and beauty. Come to Soča Valley, Slovenia It will come as no surprise to find that the area is the Adventure Sports capital of Slovenia but there is truly something here for everyone. If you can take your eyes away from the Soča, then perhaps you might indulge in white water rafting, kayaking or canyoning? How about paragliding, climbing or ziplining? Those who find the mention of those words too strenuous can simply find the hundreds of kilometres of pristine country walks that surround the region. But its not all outside, Kobarid has some of the finest restaurants in Slovenia and visits to Bovec and Most Na Soči will leave you wanting more...have a great time.
Karst Region...The underground world adds yet another dimension to Slovenia's geographic landscape and don't the tourists love it. Postojna Caves is Slovenia's most popular attraction and thousands come to marvel at the stupendous stalagmites and stalactites. Predjama Castle is no less spectacular and makes a great double bill when visiting Postojna. Purists will claim that the Škocjan Caves are the real deal when compared to Postojna and they might have a point. This amazing cavern is one of the largest in Europe and it is the sheer size that impresses. Equine enthusiasts will make straight for Lipica Stud Farm to see the famous Lippanzer stallions go through their paces. See the farm and stay for the show, another great place to add to the list! The Karst is famous for its Teran Wine and the making of Prsut (prosciutto). Suffice to say you shouldn't go hungry or thirsty around here!
The Slovene Coast...Short but sweet it is. The Slovene Coast doesn't take long to cover, but who's rushing? Piran is a beautiful and quaint town that juts out into the Adriatic as if to meet the sunset. The Venetian style housing and the narrow laneways are a joy to get lost down. If you're not staying here you're probably in nearby Portorož. The Port of Roses is Slovenia's answer to Cannes with a plethora of high rise hotels with large swimming pools and people with large wallets to match. The main street is lined with lots of restaurants and the beach is clean and packed to the rafters in summer. Closer to the Croatian border are the saltpans that used to be the lifeblood of the area. The old towns of Koper and Izola make fantastic diversions and so does the interior where hilltop villages dine on fresh olive oil, wine and seafood.
Maribor and Ptuj...The East is calling you to see yet another side of Slovenia. Maribor is the 2nd largest city and it is a very quiet place when compared to Ljubljana. The claim to fame here is the famous 400 yr. old vine that can be found down by the riverfront also known as the "Lent" area. The wine theme continues as you back into town and visit Vinag, an enormous underground cellar that is quite astounding. For those wanting a stunning view of Maribor and the plains, head for the Pohorje where you can take a gondola to the mountain top. A buzzing ski resort in winter, this is a mountain biker and hikers paradise during the rest of the year. Come to Maribor, Slovenia heading a little south we reach Ptuj, Slovenia's oldest town with a beautiful castle that describes the rich history of this town throughout the ages. It also has a delightful old town and riverfront views. Come in February for the famous Kurent Festival. If you have time, travel further afield to the wine regions of Jeruzalem and Haloze.
Come to Logarska, Slovenia Logarska Dolina...with the soaring Alps as a backdrop, the Logarska Valley is one of the most beautiful places you will ever see! The location is quite remote and a car is needed, but if you want to get away from it all, breathe in the fresh air and go for long glorious walks followed by traditionally cooked dinners, this is a great place to come.
Come to Spa resorts, Slovenia Spa Resorts...Slovenia has many great spa resorts all over the country so we cannot pinpoint them to any particular region. People come for medicinal purposes, to relax and of course, to pamper themselves. While the parents are enjoying a deep tissue massage, the kids will no doubt be having the times of their lives at the pools or engaging in the other activities on offer.
If you have time or plan to return again, these are other places we highly recommend you investigate: Skofja Loka, Kranj, Kropa, Goriska Brda, Idrija, Cerkno, Vipava Valley, Stanjel, Socerb, Hrastovlje, Lake Cerknica, Sneznik Castle, Rakov Skocjan, Ljubljana Marshes, Kamnik, Velika Planina, Volcji Potok, Slovenske Konjice, Rogla, Celje, Lasko, Brezice, Podcrtrtek, Rogaska Slatina, Koroskem, Jeruzalem, Goricko Park.
The beauty of Slovenia's attractions, plus the discoveries you make yourself along the way, will make for an unforgettable holiday. Slovenia is for you!
REFERENCES
https://en.wikipedia.org/wiki/Slovenia
http://uploadi.www.ris.org/editor/Country_Profile_Slovenia.pdf
https://www.budde.com.au/Research/Slovenia-Telecoms-Mobile-Broadband-and-Digital-Media-Statistics-and-Analyses
http://www.rtvslo.si/news-in-english/slovenians-took-sixth-place-in-the-world-for-proficiency-in-english-language/378051
http://www.mizs.gov.si/en/areas_of_work/directorate_of_higher_education/higher_education_system_in_slovenia/
http://studyinslovenia.si/study/slovenian-higher-education/
http://www.ceebd.co.uk/ceeed/un/sln/slnco.htm
https://www.omd.pt/europa/cedmanual/2014/2014/ced-manual-eslovenia.pdf
https://www.slovenia.info/en/plan-your-trip/getting-to-and-around-slovenia