Dental Tourism – Georgia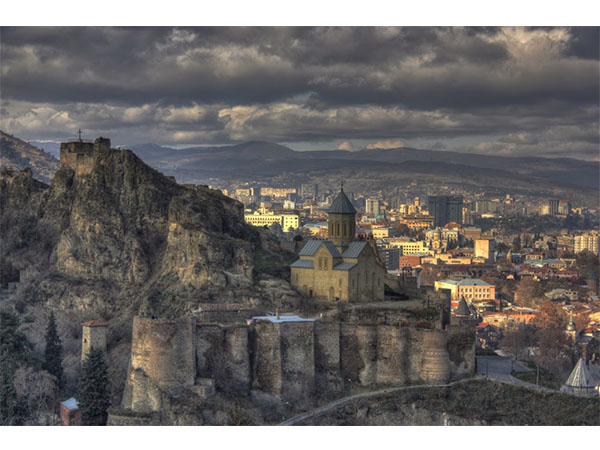 Country Profile
Georgia is a country in the Caucasus region. The country's capital and a largest city is Tbilisi. Georgia covers a territory of 69,700 square kilometers (26,911 sq. mi), and its 2016 population is about 3.72 million. Georgia is a unitary, semi-presidential republic, with the government elected through a representative democracy.
The climate of Georgia is extremely diverse, considering the nation's small size. There are two main climatic zones, roughly corresponding to the eastern and western parts of the country. The Greater Caucasus Mountain Range plays an important role in moderating Georgia's climate and protects the nation from the penetration of colder air masses from the north. The Lesser Caucasus Mountains partially protect the region from the influence of dry and hot air masses from the south. The wettest periods generally occur during spring and autumn, while winter and summer months tend to be the driest. Much of eastern Georgia experiences hot summers (especially in the low-lying areas) and relatively cold winters.
National Demographic
Like most native Caucasian peoples, the Georgians do not fit into any of the main ethnic categories of Europe or Asia. The present day Georgian or Kartvelian nation is thought to have resulted from the fusion of aboriginal, autochthonous inhabitants with immigrants who moved into South Caucasus from the direction of Anatolia in remote antiquity.
Ethnic Georgians form about 86.8% of Georgia's current population. Other ethnic groups include Abkhazians, Armenians, Assyrians, Azerbaijanis, Greeks, Jews, Kists, Ossetians, Russians, Ukrainians, Yezidis and others. The Georgian Jews are one of the oldest Jewish communities in the world. The official languages of Georgia are Georgian, with Abkhaz having official status within the autonomous region of Abkhazia. Georgian is the primary language followed by Azerbaijani, Armenian, Russian, and other languages.
Today 83.4% of the population practices Eastern Orthodox Christianity, with the majority of these adhering to the national Georgian Orthodox Church. The Georgian Orthodox Church is one of the world's most ancient Christian Churches, and claims apostolic foundation by Saint Andrew. Religious minorities of Georgia include Muslims, Armenian Christians and Roman Catholics.
Telecommunications
Most telephone lines are analogue with few digital lines and teledensity is very low in rural areas. Georgia's telecommunications sector is in need of significant investments in order to develop international communications and particularly the local network. The economic chaos that followed independence resulted in negative economic growth rates until 1995.
At the present moment the telephone traffic of Georgia is distributed between the basic five telephone companies. Three of them using a traditional platform of switching are operators of local and regional networks and three companies with other services operate on CDMA standard. Rapid expansion of the mobile service has significantly eased the access issue for urban as well as rural areas of Georgia. The growth of the cellular telecommunication segment is one of the highest parameters of the Georgian telecommunication sector. Three dominant companies "MagtiCom", "Geocell" and "Beeline" covering 95% of the populated area. The density of cellular service users reached 71.6%. Two companies (MagtiCom and Geocell) have already developed 3.5G systems in Georgia.
English Literacy
English is spoken, but I wouldn't say "widely". It's spoken by people aged in their 20s and younger, more so if they're in a big city and more so depending on their level of education.
In 2010 the Georgian government made a big push for the country to learn English and has been recruiting thousands of native English speakers, mostly from USA, with the goal of having at least one English teacher in every village.
The result is that young kids speak Georgian, a few English words and phrases they've learned at school, and a few Russian words and phrases they've picked up from friends and relatives. People in their teens and twenties are pretty fluent in both Russian and English with just a Georgian accent in both. People in their forties or older rarely speak any English at all but will speak fluent Russian with an accent. (People in their thirties seem to be a bit of a grey zone between the 20s and 40s age groups).
School System
Education in Georgia is mandatory for all children aged 6–14. The school system is divided into elementary (six years; age level 6–12), basic (three years; age level 12–15), and secondary (three years; age level 15–18), or alternatively vocational studies (two years). Students with a secondary school certificate have access to higher education. Only the students who have passed the Unified National Examinations may enroll in a state-accredited higher education institution, based on ranking of the scores received at the exams.
Most of these institutions offer three levels of study: a Bachelor's Program (three to four years); a Master's Program (two years), and a Doctoral Program (three years). There is also a Certified Specialist's Program that represents a single-level higher education program lasting from three to six years. As of 2016, 75 higher education institutions are accredited by the Ministry of Education and Science of Georgia. Gross primary enrollment ratio was 117% for the period of 2012–2014, the 2nd highest in Europe after Sweden.
Tbilisi has become the main artery of the Georgian educational system, particularly since the creation of the First Georgian Republic in 1918 permitted the establishment of modern, Georgian-language educational institutions. Tbilisi is the home to several major institutions of higher education in Georgia, notably the Tbilisi State Medical University, which was founded as Tbilisi Medical Institute in 1918, and the Tbilisi State University (TSU), which was established in 1918 and remains the oldest university in the entire Caucasus region. With enrollment of over 35,000 students, the number of faculty and staff (collaborators) at TSU is approximately 5,000. Georgia's main and largest technical university, Georgian Technical University, as well as The University of Georgia (Tbilisi), Caucasus University and Free University of Tbilisi are also in Tbilisi.
Higher Education
There are twenty-four state higher education institutions and their fourteen branches in Georgia. In addition, 81 private higher education institutions have passed the accreditation process. Studies in some 300 different specialities are offered in higher education institutions. They include fields which are highly specialized, such as the study of Kartvelian languages (related to Georgian) and Caucasian languages, as well as traditional Science and Technology subjects. Technical and specialized institutes offer studies in Metallurgy, Cableway and Railway Transport, Chemical and Food Technology, and Wine Making, Silkworm Breeding, the growing of tea and citrus fruits. Courses in Fine Arts (Theatre, Cinematography, Painting, and Sculpture) are provided by specialized higher education institutions.
The colleges in the country can conduct just Bachelor or professional education programmes. The teaching universities provide Bachelor and Masters Programmes but do not offer doctoral programmes. And, finally there are universities that offer Bachelor, Master's and doctoral programmes.

The higher education institutes in the country offer quality education today, as the country has an external quality assurance system in place which is carried out through an accreditation process. This accreditation is conducted by the National Center For Educational Quality Enhancement

Georgia's willingness to initiate reform actions and provide a credit option for the "Strengthening and Realignment of Secondary Education Sector in Georgia" was acknowledged by the World Bank. Secondary school graduates are the most important capital of any higher education system. Thus, the foundation for reforming the Georgian system of higher education is already being built.
Medical Education
Medicine has become one of the greatest and the most sort after courses of study in the whole world. However, there are very few available spaces in the few accredited (WHO) Universities. Georgia is one of the world's fastest growing countries and the educational system has remained top class. The medical Universities are enjoying a very high world ranking, even higher than most medical Universities in Ukraine and Russia.
Study Medicine in Georgia in English, Russian and Georgian one the best option to study medicine abroad. It has the best medical University in Caucasus Region (Russia, Georgia, Azerbaijan, and Armenia), one of which is Tbilisi State Medical University (TSMU).
In according to Georgian legislation for Medical Activity, medical practice is: "the professional activity of a person with medical background, professional skills and practical experience the aim of which is to protect, maintain and restore the health or ease suffering of a human being in accordance with medical and ethical standards and medical traditions recognized in Georgia".
Quality of basic medical education appears as a predictor for successful medical practice. Its matching to international standards is a crucial for providing the optimal functioning of the national health care system. It is necessary to obtain not only theoretical knowledge in fundamental humanitarian and clinical sciences, but also to achieve high level of clinical skills in medical practice.
Ethic values and formation of specific relations are also the highly important factors. All these are reflected in the competency standards for general and medical practice in medical education in Georgia.
The Dentistry Profession
Dentists can work in public or private clinics, hospitals, and sometimes public institutions. Most dentists work as general practitioners, while others are specialized in a certain area in dentistry.
In most countries, dentistry studies are very similar to studying medicine and require many years of preparation and training. You can apply for a dentistry degree in colleges, universities, or in the U.S. in dental schools – which represent a different faculty within a university.
Dentistry is a professional career dedicated to the evaluation, diagnosis, prevention and treatment of diseases, disorders and conditions of the oral cavity, maxillofacial area (upper and lower jaws), associated structures next to these areas and their impact on the human body. Oral health is widely considered necessary for complete general health. As a dentist, you are a member of the healthcare team providing advice to the public about oral healthcare. Your job will also include restoring function to badly decayed, broken or infected teeth, replacing missing teeth with dentures, bridges or implant-supported prostheses, treatment of oral diseases such as inflammatory diseases of gum and supporting tissues, destructive diseases such as cancer of the oral tissues, the aligning and straightening of teeth.
Dentists' work is not confined to filling and pulling out teeth. The care that dentists are trained to provide greatly improves the quality of their patients' lives. Oral diseases like tooth decay, gum diseases and oral cancer, malocclusion (when teeth in the upper and lower jaws do not fit properly), genetic deformities and anomalies affecting the oro-facial complex, and other oral problems can cause a great deal of discomfort, pain and adversely affect oral functions such as chewing food, talking or playing of musical instruments. A patient's appearance, self-esteem and confidence can also be greatly enhanced through various types of dental procedures.
Getting There for Dental Care
Travelling to Georgia are getting easier and cheaper thanks to a surge in low-cost airlines entering the Georgian market. International visitors are being given an opportunity to fly to Georgia while locals can venture abroad without having to pay sky-high fees that are usually associated with air travel.
As of today seven budget airlines fly in and out of Georgia, making air travel more affordable for Georgians travelling abroad and for foreigners willing to discover Georgia. The budget airlines that now fly in and out of Georgia are Wiz-Air, Pegasus, Air Arabia, Fly Dubai, Atlas Jet and Air Cairo.
As of today 25 airline companies fly in and out of Tbilisi Shota Rustaveli International Airport, located in Georgia's capital Tbilisi, and these are Aegean Airlines, Air Astana, Airzena, SCAT Airlines, Fly Baghdad, Azerbaijan Airlines, Qatar Airways, flydubai, Ural Airlines, Polish Airlines, ATA Airlines, Ukraine International Airlines, Yanair, Belavia, Lufthansa, Aeroflot, Siberia Airlines, Air Baltic, Alin Air, Turkish Airlines, AtlasJet, Pegasus, China Southern Airlines, Air Cairo and Air Arabia.
Five airlines fly to Batumi International Airport and these are Airzena, Arkia, Yanair, Belavia and Turkish Airlines.
Several Turkish bus companies connect Turkey to Georgia, running from Istanbul, Ankara, Trabzon and other Turkish cities to Batumi, Kutaisi and Tbilisi.
For those travellers looking for something a little different, ferry trips may be possible to the ports of Batumi or Poti from some countries in the Black Sea region.
Visitor Highlights
Tourist attractions include more than 2,000 mineral springs, over 12,000 historical and cultural monuments, four of which are recognized as UNESCO World Heritage Sites (Bagrati Cathedral and Gelati Monastery in Kutaisi, Historical Monuments of Mtskheta, and Upper Svaneti).
Unmatched in its mountain scenery, undeterred by its tumultuous past, the nation of Georgia is now seriously on the up, attracting travelers from both Europe and Asia (continents it straddles neatly on the Caucasus Mountains) and touting everything from the snow-tipped peaks of Svaneti to shimmering beaches on the Black Sea.
Here are some of the few spots every visitor to Georgia should be sure to have on their bucket list. Tusheti National Park a historic home of the eponymous Tush peoples located at the northern edges of the Greater Caucasus Mountains.Tbilisi is the nerve centre of Georgia's drive towards modernity, a town steeped in history, making it a great place to explore the republic's fine balance of the old and the new. Borjomi best known as the source of its namesake mineral water, the city of today has plenty more to offer than just its sulphuric, volcanic springs. Vardzia remains without question one of the most dramatic sights to behold in the country. Gudauri has risen and risen in recent years to establish itself as the country's prime winter sports destination and also a fine alternative to the bustling ski fields of the Alps. Lake Ritsa and the surrounding forests are great for hikers looking to delve into one of the less-trodden natural reaches here, while boating and wild swimming in the icy waters are also favourite pastimes. If you would like to know more, you can visit Georgian Tourism Association.
REFERENCES
https://en.wikipedia.org/wiki/Georgia_(country)
http://www.internetworldstats.com/asia/ge.htm
http://www.globalunigroup.ge/files/ict-tech-market-overview-eng.pdf
https://travel.stackexchange.com/questions/10640/what-language-to-use-in-georgia-the-country-is-english-widely-spoken
http://www.euroeducation.net/prof/goergco.htm
http://www.silkproject.org/highereducationingeorgia.htm
http://www.studyingeorgia.com.ng/degree-programs/study-medicine-in-georgia.html
http://www.medicalstudyguide.com/georgia.html
http://www.mastersportal.eu/articles/1979/international-student-journey-to-a-well-paid-dentistry-job.html
http://www.medicine-georgia.com/index.php/programmes/undergraduate/dentistry-stomatology-b-d-s
http://agenda.ge/article/3032/eng
http://www.tikatours.com/getting-to-georgia
https://www.thecrazytourist.com/15-best-places-visit-georgia/