Dental Tourism – Croatia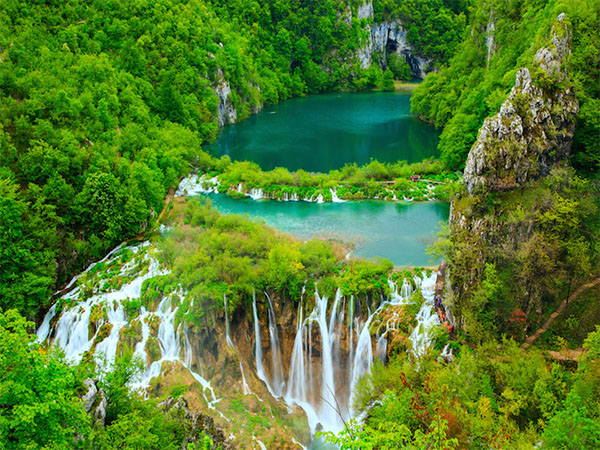 Country Profile
Croatia, officially the Republic of, is a sovereign state between Central Europe, Southeast Europe, and the Mediterranean. Its capital city is Zagreb, which forms one of the country's primary subdivisions, along with its twenty counties. Croatia covers 56,594 square kilometers (21,851 square miles) and has diverse, mostly continental and Mediterranean climates. Croatia's Adriatic Sea coast contains more than a thousand islands. The country's population is 4.28 million, most of whom are Croats, with the most common religious denomination being Roman Catholicism.
A unitary state, Croatia is a republic governed under a parliamentary system. The International Monetary Fund classified Croatia as an emerging and developing economy, and the World Bank identified it as a high-income economy.
Since 2000, the Croatian government constantly invests in infrastructure, especially transport routes and facilities along the Pan-European corridors. Internal sources produce a significant portion of energy in Croatia; the rest is imported.
Most of Croatia has a moderately warm and rainy continental climate as defined by the Köppen climate classification. Mean monthly temperature ranges between −3 °C (27 °F) (in January) and 18 °C (64 °F) (in July). Mean annual precipitation ranges between 600 millimeters (24 inches) and 3,500 millimeters (140 inches) depending on geographic region and prevailing climate type. Prevailing winds in the interior are light to moderate northeast or southwest, and in the coastal area prevailing winds are determined by local area features. Higher wind velocities are more often recorded in cooler months along the coast. The sunniest parts of the country are the outer islands, Hvar and Korčula, where more than 2700 hours of sunshine are recorded per year.
National Demographic
Croatia is inhabited mostly by Croats (90.4%) and is ethnically the most homogeneous of the six countries of former Yugoslavia. Minority groups include Serbs (4.4%), Bosniaks, Hungarians, Italians, Slovenes, Germans, Czechs, Romani people and others (5.9%).
Croatia has no official religion. Freedom of religion is a right defined by the Constitution which also defines all religious communities as equal in front of the law and separated from the state. According to the 2011 census, 91.36% of Croatians identify as Christian; of these, Roman Catholics make up the largest group, accounting for 86.28% of the population, after which follows Eastern Orthodoxy (4.44%), Protestantism (0.34%) and other Christianity (0.30%). Second largest religion is Islam (1.47%). 4.57% of the population describes themselves as non-religious.
Croatian is the official language of Croatia, and became the 24th official language of the European Union upon its accession in 2013. Minority languages are in official use in local government units where more than a third of population consists of national minorities or where local legislation defines so. Those languages are Czech, Hungarian, Italian, Ruthenian, Serbian and Slovakian.
Croatia has a universal health care system, whose roots can be traced back to the Hungarian-Croatian Parliament Act of 1891, providing a form of mandatory insurance of all factory workers and craftsmen. The population is covered by a basic health insurance plan provided by statute and optional insurance. There are hundreds of healthcare institutions in Croatia, including 79 hospitals and clinics with 23,967 beds. The hospitals and clinics care for more than 700 thousand patients per year and employ 5,205 medical doctors, including 3,929 specialists. There are 6,379 private practice offices, and a total of 41,271 health workers in the country. There are 63 emergency medical service units, responding to more than a million calls.
Literacy in Croatia stands at 99.2%. A worldwide study about the quality of living in different countries published by Newsweek in August 2010 ranked the Croatian education system at 22nd, to share the position with Austria. Croatia has also produced inventors and two Croatians received the Nobel Prize.
Telecommunications
Croatia is well-covered with mobile networks and you will be able to communicate easily in huge majority of its territory. Croatia has three mobile carriers - Hrvatski Telekom (Croatian Telecom), VIPnet and Tele2. Hrvatski Telekom and VIPnet each own two operators, while Tele2 owns one operator.
Roaming charges in Croatia went down significantly since accession to the EU in July 2013. Prices for tourists from EU/EEA countries are now capped by European Union, which means they are a few times lower than they used to be. If you plan to stay longer and want to buy a Croatian mobile phone number (SIM card), you can do it in thousands of stores - from operators' and their partners' stores, to technical equipment shops, supermarkets and newsstands. Topping-up an account is even easier, since vouchers can be bought almost everywhere.
If you will need a landline, you shouldn't have a problem with locating one. Most of the households own a fixed-line phone and many hosts won't mind you to use it if you're staying in their property. Of course, one expects you to compensate the cost, especially if you dial a number abroad. If you need to call a number inside of Croatia, some hosts might not charge you anything, since most of the fixed-line packages now have flat-packages, that include a certain (or even 'unlimited') number of free minutes.
In recent years, Croatia got many free public hotspots. Hundreds of public locations in Croatia, especially along the coast, are covered by wireless signal that can be used by anyone for free. Those are mostly central locations, e. g. important squares that can be quite crowded during the season, so don't be surprised if the connection is somewhat sluggish in high-season.
English Literacy
The majority of Croatians speak at least one other language. According to a recent poll, some 80% of Croatians are multilingual and, of that group, 81% are English-speakers. The next most popular language is German at 49% followed by Italian at 24%.
Language ability varies by region. In Slavonia only 51% speak a foreign language while in Istria a full 95% speak another language. English-language speakers are concentrated in Zagreb and the coast which makes sense as much of the coast depends upon tourism for their livelihood.
Of those between 15 and 34, a whopping 95% speak at least one foreign language, with English being the predominant tongue. For the elderly, not so much. The over-65 set is about half monolingual with German the most popular second language.
School System
Primary education in Croatia starts at the age of six or seven and consists of eight grades. In 2007 a law was passed to increase free, non-compulsory education until 18 years of age. Compulsory education consists of eight grades of elementary school. Secondary education is provided by gymnasiums and vocational schools. As of 2014, there are 2,055 elementary schools and 707 schools providing various forms of secondary education. Primary and secondary educations are also available in languages of recognized minorities in Croatia, where classes are held in Czech, Hungarian, Italian, Serbian and German languages.
There are 132 elementary and secondary level music and art schools, as well as 120 schools for disabled children and youth and 74 schools for adults. Nationwide leaving exams (Croatian: državna matura) were introduced for secondary education students in the school year 2009–2010. It comprises three compulsory subjects (Croatian language, mathematics, and a foreign language) and optional subjects and is a prerequisite for university education.
Croatia has 8 public universities, the University of Dubrovnik, University of Osijek, University of Pula, University of Rijeka, University of Split, University of Zadar and University of Zagreb, and 2 private universities, Catholic University of Croatia and Dubrovnik International University. The University of Zadar, the first university in Croatia, was founded in 1396 and remained active until 1807, when other institutions of higher education took over until the foundation of the renewed University of Zadar in 2002. The University of Zagreb, founded in 1669, is the oldest continuously operating university in Southeast Europe. There are also 15 polytechnics, of which 2 are private, and 30 higher education institutions, of which 27 are private. In total, there are 55 institutions of higher education in Croatia, attended by more than 157 thousand students.
There are 205 companies, government or education system institutions and non-profit organisations in Croatia pursuing scientific research and development of technology. Combined, they spent more than 3 billion Kuna (€400 million) and employed 10,191 full-time research staff in 2008. Among the scientific institutes operating in Croatia, the largest is the Ruđer Bošković Institute in Zagreb. The Croatian Academy of Sciences and Arts in Zagreb is a learned society promoting language, culture, arts and science from its inception in 1866.
Higher Education
In Croatia, the higher education sector is regulated by the Ministry of Science, Education and Sport. Quality assurance in higher education is regulated by the Croatian Agency for Science and Higher Education.
Croatia has a binary higher education system, meaning that prospective students can choose between two types of higher education studies: University studies - consisting of academic programmes that are conducted solely at universities; Professional studies - consisting of professional programmes conducted at polytechnics or colleges of applied sciences (exceptionally, professional programmes can also be implemented at universities).
Croatia has both public and private higher education institutions.
Most Croatian universities are public institutions. However, private university education has recently started to develop in Croatia with the establishment of three private universities and numerous colleges of applied sciences.
Regarding higher education institutions providing professional studies, the picture is more varied. Almost all polytechnics are public institutions, while most colleges of applied sciences are private institutions. Both polytechnics and colleges of applied sciences provide first and second cycle professional study programmes – these institutions differ only in the number of study programmes they provide, not in the type of programmes.
Medical Education
Croatia joined the Bologna Process and signed the Bologna Declaration in Prague, in May 2001. Implementation of the Bologna Process in higher education started in the academic year 2005/2006. However, the Bologna Declaration was introduced into the Croatian medical education system in 2000, when the European Credit Transfer and Accumulation System (ECTS) was first to be applied at the University of Zagreb School of Medicine (UZSM).
The Croatian Government decided to implement the Bologna Process in higher educational institutions in Croatia from the academic year 2005/2006. Thus, all four medical schools in Croatia (from the Universities of Zagreb, Rijeka, Split, and Osijek) decided to work jointly on the improvement of the medical education system, as well as on the implementation of the Bologna Process in the curricula. All four medical schools consented to create together a core curriculum and to evaluate its implementation on the principles of the Bologna Process. Based on the UZSM experience in implementing the ECTS, all medical schools decided to formulate the ECTS as an indicator of student workload, as well as to emphasize the importance of quality assurance, to promote mobility within the Croatian universities, to develop life-long learning skills, to define national competences and qualifications, to work on joint degrees in doctoral studies and to enhance the European cooperation. These joint actions were also decisive for bridging the gap between the academic community and professional societies.
In course of the development and implementation of the new curriculum associated with the Bologna Recommendations, UZSM has also respected the World Federation for Medical Education (WFME) Global Standards for Quality Improvement in Basic Medical Education, particularly in the context of the European educational situation, as well as the WFME and Association for Medical Education in Europe (AMEE) Statement on the Bologna Process and Medical Education.
The Dentistry Profession
To enter dental school a student has to have completed secondary school. There is an entrance examination which consists of scoring from secondary school grades, scoring from a written exam and scoring from a manual skills exam. Quality assurance for the dental schools is provided by the Ministry of Science, Education and Sport. The primary degree which is included in the register is: doktor stomatologije (dr.stom.) or Doctor of Dental Medicine (DMD) in English. There is post-qualification Vocational Training (VT) for Croatian graduates.
To register in Croatia, a dentist must have a recognized degree or diploma awarded by the university and have completed one year of mandatory training or "residence," under the supervision of experienced dentists. At least 6 months of this training must be undertaken in dental school and 6 months in one of the experienced private or contractor dental offices. There is practical and theoretical training. The trainees are salaried as non-dentists, without a license with maximum salaries of €7,000 (gross) a year. After that the trainee dentist must pass the state exam held at the Ministry of Health and organized by the staff of the school of dentistry and Ministry. After this exam has been passed, the dentist obtains a License from the Croatian Dental Chamber. Only then a dentist is licensed to work independently. Dentists who have qualified from outside of Croatia do not need to undertake vocational training if are they from EU countries. Dentists from countries outside the EU/EEA need to pass written exam, as a confirmation of their qualifications. There is a formal need to understand and speak the Croatian language to a basic level, to register.
Continuing education is mandatory and the rules are set in law. The requirement is 7 hours of formal training each year. CE is organized by the Chamber (the number of courses and standards). Courses are given by dental school staff and private organizers.
Specialist training is organized by the dental schools of Zagreb and Rijeka. Training lasts for 3 years and includes a University examination and written specialist thesis. There is also a medical specialty of Oral Maxillo-facial surgery. The specialist title is issued by the competent authority – the Ministry of Health but a list that the public may consult is not kept.
There is an increase in workforce as demand rises. However, the dentist unemployment rate is reported by the Chamber as "high" (132 unemployed and registered at the Croatian employment service in July 2013). There are some overseas qualified dentists working in Croatia. In 2013 there were 5 with a proper license. The Chamber has suggested that there is an increased interest to work in Croatia as a dentist.
Getting There for Dental Care
Croatia has an astonishing seven airports (Brač Airport (BWK), Dubrovnik Airport (DBV), Pula Airport (PUY), Rijeka Airport (RKJ), Split Airport (SPU), Zadar Airport (ZAD), Zagreb Airport (ZAG)) welcoming international flights, but only the three biggest (Zagreb, Split and Dubrovnik ) do so all year round.
Croatia Airlines flies routes between Croatia and Europe's major hubs, among them Amsterdam, Athens, Belgrade, Berlin, Brussels, Copenhagen, Dusseldorf, Frankfurt, London, Munich, Paris, Prague, Rome, Sarajevo, Vienna, and Zurich. Zagreb(ZAG) and Dubrovnik (DUB) are Croatia's biggest gateways and Lufthansa is the largest international carrier that serves them. Both Lufthansa and Croatia Airlines are members of the Star Alliance, which includes United Airlines. At press time, no U.S. carriers were flying directly into Croatian airports.
The highways that connect Croatia to its neighbors (Slovenia, Hungary, Bosnia-Herzegovina, Serbia, and Montenegro) are good and getting better as miles of new pavement are poured. This is especially true of the span between Ljubljana and Zagreb, a route that now takes just 2 hours to complete. The route from Budapest to Zagreb runs across Croatia's northern border and is also popular. It takes about 5 hours to reach Zagreb (362km/225 miles) from the Hungarian capital. Visitors coming from Italy and Austria must pass through Slovenia to get to Croatia's border, but Slovenia's roads are excellent, too.
Trains connect most major Croatian cities north of Split, but there is no train service to cities between Split and Dubrovnik in southern Dalmatia. Zagreb does have convenient railway links with Austria, Bosnia-Herzegovina, Germany, Hungary, Italy, Serbia, Slovakia, Slovenia, and Switzerland, but the links to and from other European countries can be extremely time-consuming. The train ride from Paris to Zagreb, for example, takes 18-plus hours, while a rail trip from Frankfurt to Split will take almost 24 hours. If you must get to Croatia by rail from another European city, check schedules, fares, and details on rail passes at Rail Europe. For trains within Croatia, check Croatia Railways.
There is a year-round regular overnight ferry service from Ancona in Italy to Split in Dalmatia. Other less frequent lines include Bari in Italy to Dubrovnik, and Venice in Italy to several coastal towns in Istria. In the Ancona–Split case, you hop aboard the ferry around 9pm and arrive in Dalmatia just as the sun is rising. Routes, fares, schedules, and booking information are available from the respective companies (Blue Line International, Jadrolinija, SNAV, Venezia Lines).
Visitor Highlights
Tourism dominates the Croatian service sector and accounts for up to 20% of Croatian GDP. Annual tourist industry income for 2014 was estimated at €7.4 billion. Its positive effects are felt throughout the economy of Croatia in terms of increased business volume observed in retail business, processing industry orders and summer seasonal employment. The industry is considered an export business, because it significantly reduces the country's external trade imbalance. Since the conclusion of the Croatian War of Independence, the tourist industry has grown rapidly, recording a fourfold rise in tourist numbers, with more than 11 million tourists each year. The most numerous are tourists from Germany, Slovenia, Austria, Italy and the Czech Republic as well as Croatia itself. Length of a tourist stay in Croatia averages 4.9 days.
The bulk of the tourist industry is concentrated along the Adriatic Sea coast. Opatija was the first holiday resort since the middle of the 19th century. By the 1890's, it became one of the most significant European health resorts. Later a number of resorts sprang up along the coast and islands, offering services ranging from mass tourism to catering and various niche markets, the most significant being nautical tourism, as there are numerous marinas with more than 16 thousand berths, cultural tourism relying on appeal of medieval coastal cities and numerous cultural events taking place during the summer. Inland areas offer mountain resorts, agrotourism and spas. Zagreb is also a significant tourist destination, rivaling major coastal cities and resorts.
Croatia has unpolluted marine areas reflected through numerous nature reserves and 116 Blue Flag beaches. Croatia is ranked as the 18th most popular tourist destination in the world. About 15% of these visitors (over one million per year) are involved with naturism, an industry for which Croatia is world famous. It was also the first European country to develop commercial naturist resorts.
REFERENCES
https://en.wikipedia.org/wiki/Croatia
http://ecahe.eu/w/index.php/Higher_education_system_in_Croatia
http://www.studyincroatia.hr/studying-in-croatia/croatian-higher-education-system
http://www.egms.de/static/de/meetings/hrk2008/08hrk13.shtml
https://www.omd.pt/europa/cedmanual/2014/2014/ced-manual-croacia.pdf
http://www.croatiatravelguide.net/info/telecommunications-in-croatia
http://www.croatiatravelguide.net/info/mobile-networks-and-operators-in-croatia
http://www.croatiatraveller.com/Language.htm
http://www.frommers.com/destinations/croatia/planning-a-trip/getting-there
http://www.lonelyplanet.com/croatia/transport/getting-there-away/flights